Has Bitcoin Creator Satoshi Nakamoto Returned?
After five years of inactivity, an X (formerly Twitter) account with the handle @satoshi posts about Bitcoin. Although no one knows who controls this account, the community is in an uproar, and Bitcoin SV (BSV) skyrocketed by 30%. Is Satoshi Nakamoto back?
Since Satoshi Nakamoto's disappearance in 2008, there has been much speculation about the true identity of the Bitcoin inventor. Even Elon Musk and Steve Jobs were suspected to be behind this mysterious figure, but no one could prove it. 
The Mysterious Satoshi Nakamoto Post
On October 2, there was a surprise for the crypto community. The X account @satoshi, which has been inactive since 2018, broke its silence and wrote a post. It said:
"Bitcoin is a predicate machine. Over the following months, we shall explore different aspects that were not explicitly contained within the white paper. These aspects are all parts of bitcoin, and are important. Some of these ideas were touched upon in the early years; now is the time to extrapolate and explain."
By "predicate machine," the author of this tweet probably refers to the fact that the cryptocurrency works exclusively with truth values ​​and does not allow manipulation.
In response to this tweet, BSV experienced an explosive price increase of 30% on October 2 and the following day, outperforming Bitcoin and Ethereum.
Read more: Satoshi Nakamoto – Who is the Founder of Bitcoin?
But could Nakamoto actually be behind this account? Unsurprisingly, this tweet sparked renewed speculation about his true identity. 
Former nChain CEO Christen Ager-Hanssen claimed that Craig Wright controlled the account. After all, he had often posed as Satoshi Nakamoto.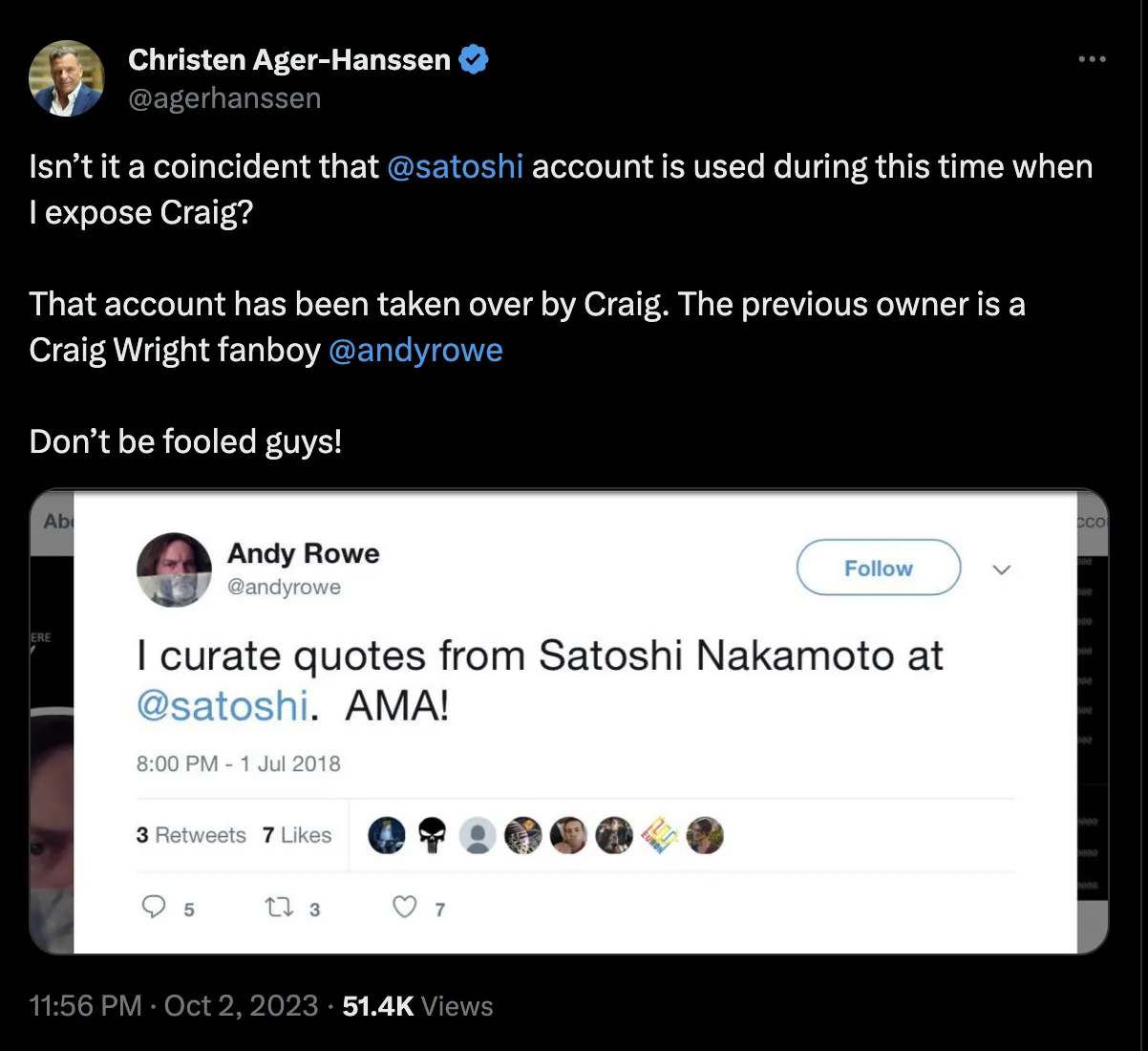 Andy Rowe was also associated with the account but distanced himself and stated that he was not Nakamoto. He wrote:
No, I am not @satoshi. The only "scam" I've ever perpetrated was advocating for unbounded blocks. That is forbidden in the "permissionless" world of crypto.
It is still unclear who is really behind the X account, but BSV, which spun off from Bitcoin Cash in 2018, plays a central role in this identity drama. The development of the hard fork was led by Wright, who wanted to restore the blockchain's original protocol. 
He believes that the vision back then differed greatly from the implementation today.
Read more: 8 Best Bitcoin Cash (BCH) Wallets in 2023
Amidst this controversy, the Satoshi account made a new post on October 3. It wrote:
Bitcoin was created for everyone. The next halving is an important predicted occurrence when transaction fees are meant to start to supplant the mining subsidy.

There are many who do not want you to know the truth. It is not that they want to silence this account. They want to silence you. 2024 is the year of the Dragon.
Do you have anything to say about Bitcoin creator Satoshi Nakamoto's account or anything else? Write to us or join the discussion on our Telegram channel. You can also catch us on TikTok, Facebook, or X (Twitter).
For BeInCrypto's latest Bitcoin (BTC) analysis, click here.
Disclaimer
In adherence to the Trust Project guidelines, BeInCrypto is committed to unbiased, transparent reporting. This news article aims to provide accurate, timely information. However, readers are advised to verify facts independently and consult with a professional before making any decisions based on this content.