Pepe Coin Pumps 5% To Try To End Month On A High But Smart Money Targets This Crypto Gambling Presale
2023's break-out memecoin Pepe Coin (PEPE) has exploded +5% as market interest returns to the beloved token – but with PEPE pipped for top place by Wall Street Memes (WSM) – can Pepe coin end the month on a high?
The Pepe coin bounce back coincides with a +91% 24-hour rise in trading volume that has seen PEPE return to the top 30 cryptocurrencies (by volume).
OKX has taken note of the dramatic move, with their popularity algorithm identifying PEPE as the #2 most watched coin over the past 24-hours, pipped only by recently launched Wall Street Memes.
PEPE Price Analysis: Can Pepe Coin End September on a High?
Amid the come back, Pepe coin has pushed higher into the trading channel, with PEPE currently trading at a market price of $0.00000071 (representing a 24-hour change of -2.74%).
This comes as Pepe coin reclaims vital lifeline support from the descendant 20DMA, which had acted to suppress upside price action for 41-days from August 15 to September 25.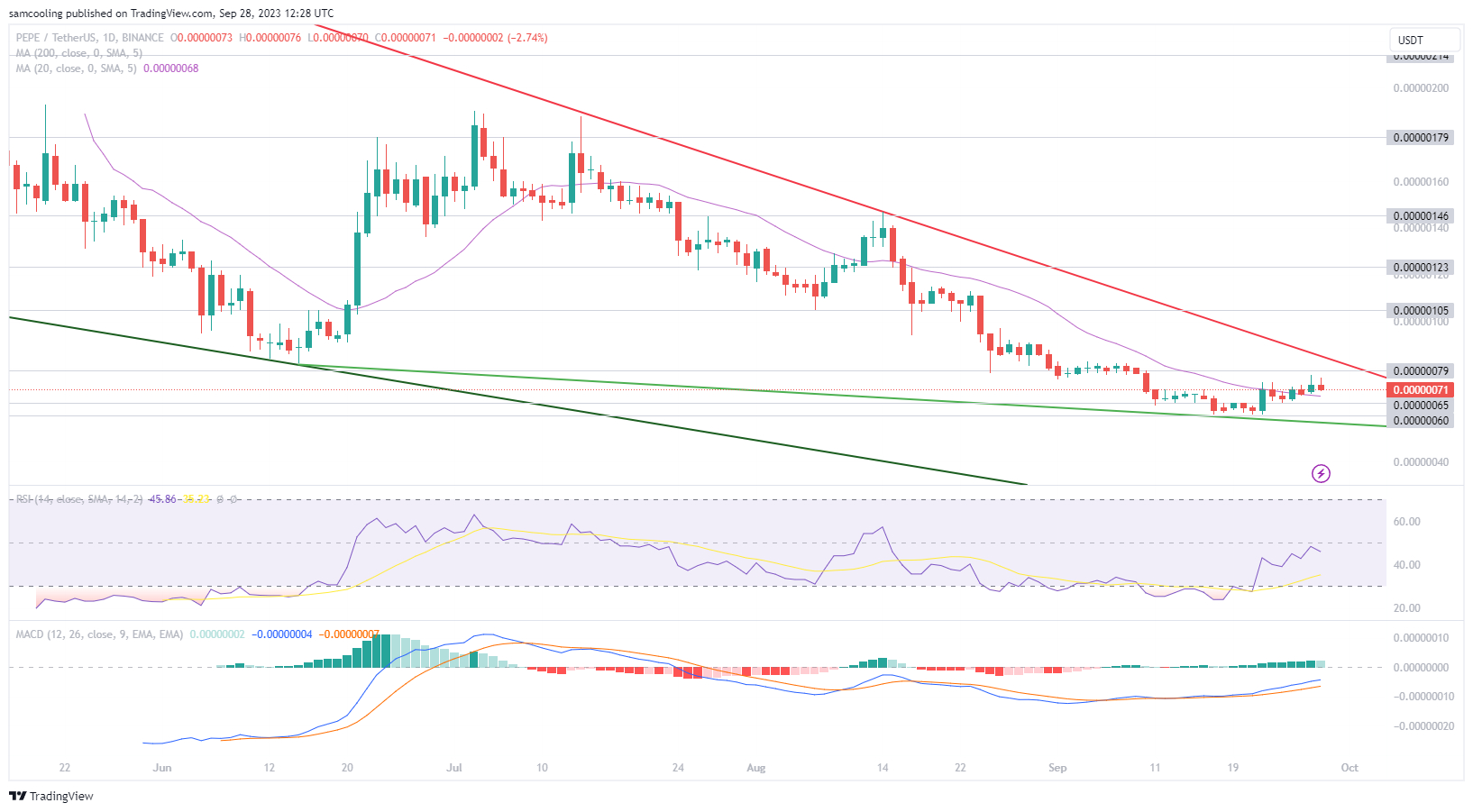 With consolidation seemingly successful atop the 20DMA, price action is now intent on pushing up, with an ongoing resistance test at the $0.0000008 price level forming the key area to watch.
PEPE's indicators suggest that smashing through this level could be possible, with the RSI remaining cooled-off with minor bullish divergence at 47 – suggesting PEPE price remains oversold at these levels.
While the MACD has shifted positive to display minor divergence at 0.00000002.
Overall, this leaves PEPE in strong form – with solid under footing from the 20DMA matched by bullish sentiment confirmed by two key indicators – all eyes are now on $0.0000008 to see if Pepe coin can break high.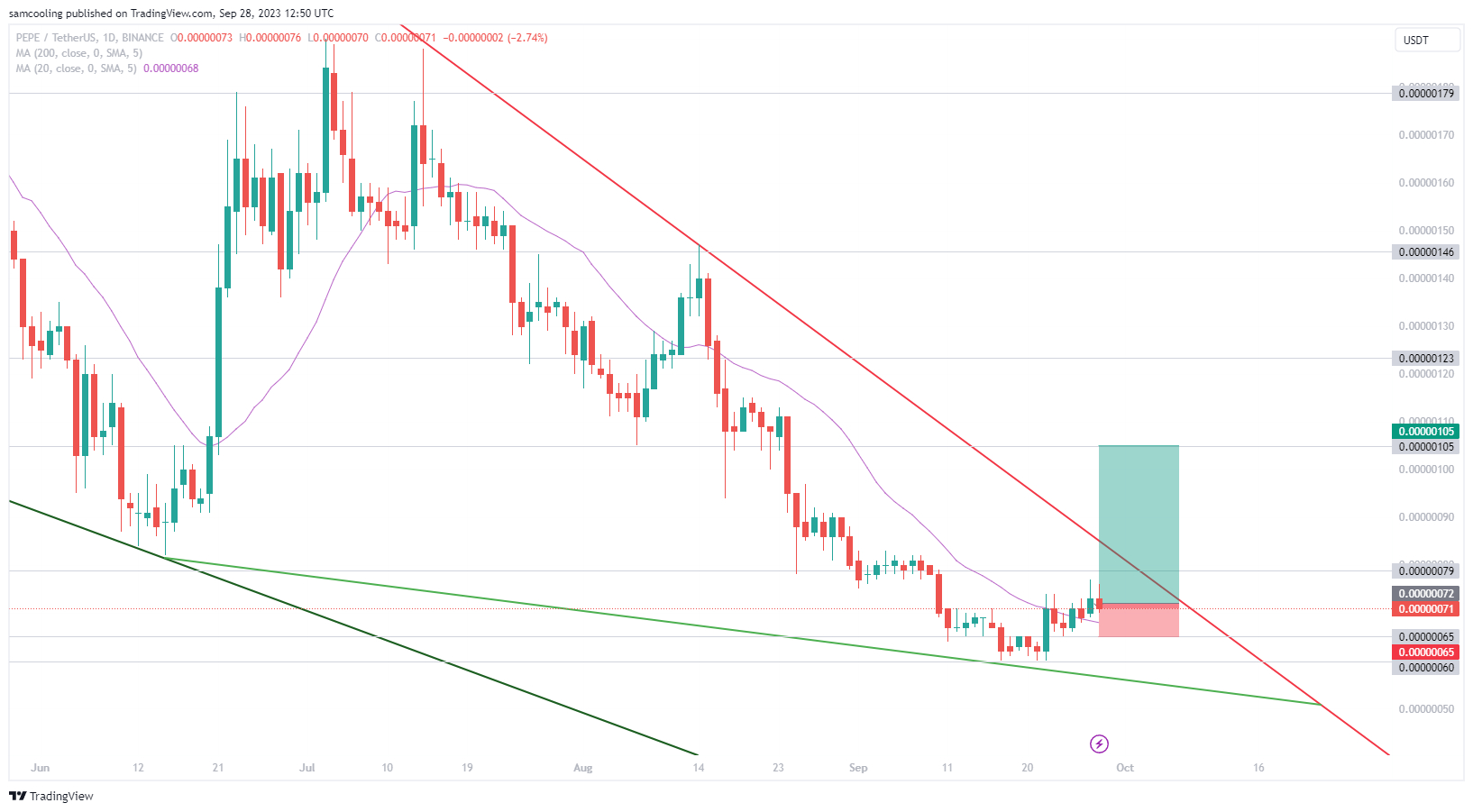 In the event of a break-out from resistance here, then price is targeting higher support at $0.00000105 (a potential +45.8%).
While if PEPE is rejected by resistance here, risk could see PEPE fall to lower support at $0.00000065 (a potential -9.72%).
This leaves Pepe coin with a risk: reward ratio of 4.71 – a strong entry with serious break-out potential due to PEPE's memetic value.
But while bag-holders are leaning into the hopium, smart capital are already rotating capital into the next profitable play that's positioned to see big gains off surging popularity around Telegram trading bots and GambleFi.
TG.Casino ($TGC): A New Dawn in Crypto Gaming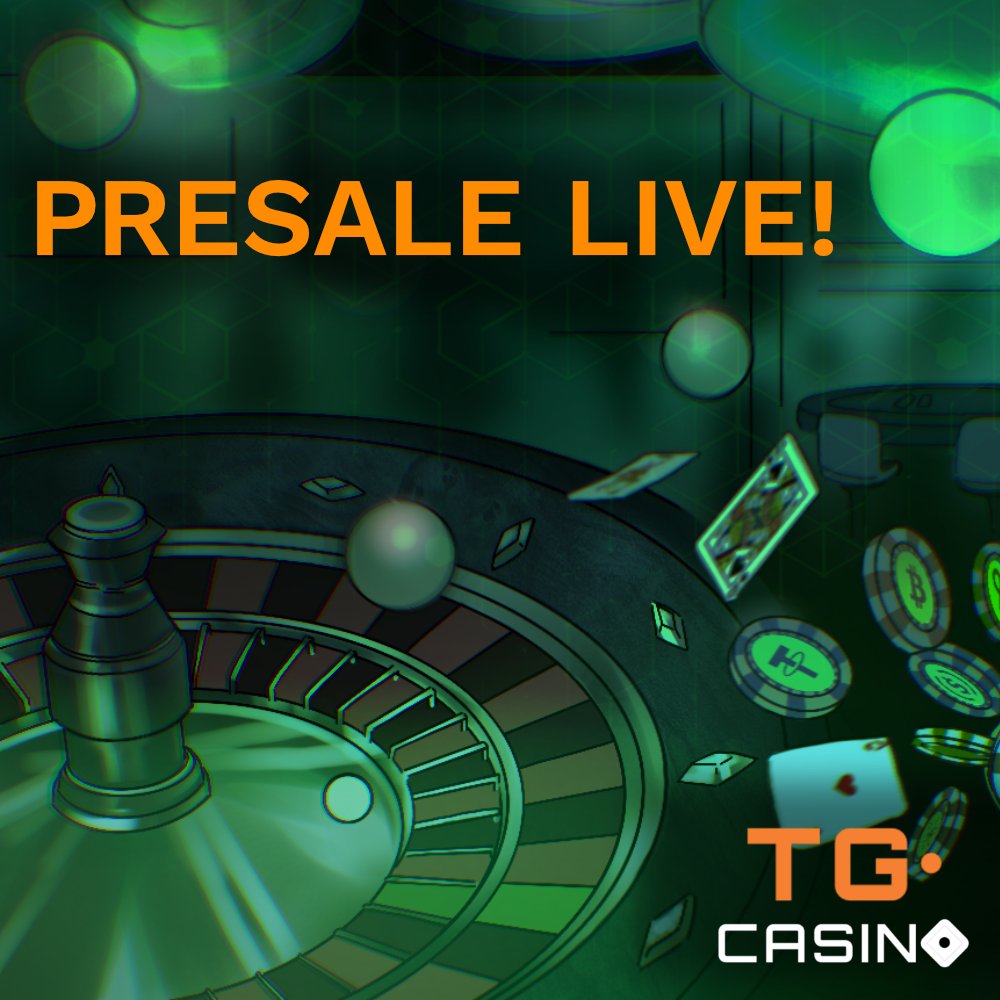 As Telegram trading bots and GambleFi dominate September's narratives, the TG.Casino ($TGC) presale is gaining significant attention – racing to $250k raised in just days, here's why it should be on your radar.
TG.Casino isn't just another quick Telegram bot pump-and-dump it's an intricately crafted ecosystem that marries the thrill of the casino world with the decentralized edge of blockchain.
By being a fully licensed casino that integrates seamlessly into Telegram, which boasts over 700 million users, the reach and potential are undeniable.
The ease of use, amplified by a no-KYC protocol, makes it an alluring proposition for both novices and crypto veterans with easy onboarding ensuring a seamless road to new user growth.
With a range of offerings, from thousands of live casino games, slot machines, and table games to an expansive sportsbook, ensures an immersive experience.
And for those keen on kick-starting their journey, the 150% matched deposit bonus on the first deposit plus 500 free spins is the cherry on top.
From a security standpoint, users can rest easy – all data and funds are encrypted, ensuring robust protection against potential threats.
While the $TGC token not only facilitates instant transactions but also serves as the beating heart of this dynamic ecosystem.
The TG Casino Presale: Hype and Beyond

The presale is where things get even more intriguing as the offered staking APY is nothing short of spectacular, standing proudly at 3,446%.
Given that over a million tokens have been staked within a day of the presale launch, the momentum is palpable.
And a well-conceived buyback mechanism ensures price stability and regular rewards, a win-win for the community.
The $TGC token's utility is another aspect to spotlight – beyond its primary function in the casino world, its adaptability – be it swapped for gaming credits or other cryptos – adds layers to its potential growth.
Its role in transactions, from deposits to withdrawals, signifies its pivotal role in the TG.Casino framework.

To wrap it up, TG.Casino ($TGC) presale is not just an opportunity; it's a front-row ticket to the future of Telegram GambleFi.
Its blend of a comprehensive ecosystem, enticing financial benefits, and user-centric approach make it a tantalizing prospect.
As always, arm yourself with research, and here's to successful ventures ahead!
Dive into the TG.Casino Presale Now.
Buy $TGC Here
Disclaimer: Crypto is a high-risk asset class. This article is provided for informational purposes and does not constitute investment advice. You could lose all of your capital.