Wall Street Memes Crypto FOMO Sees Another $1.4m Raised in a Day – Only 24 Hours Left to Buy $WSM at Lowest Price
Over the past 24 hours Wall Street Memes token has raised $1.4m, and there are only a maximum of 24 hours left for the last chance to buy $WSM at the lowest prices. 
Although the headline total raised has not been officially released since the $25 million milestone was reached a couple of weeks ago, whatever the exact total is, Wall Street Memes is one of the largest presales of the year.
Buyers continue to be attracted in droves to $WSM token's vision of monetizing the meme stocks movement and carrying it over into the crypto space. 
It is part of a broader strategy to empower mainstreet to democratize the Wall Street-dominated financial landscape.
Add to that the excitement generated by the announcement that the coin will be listing on 'multiple tier 1 exchanges', starting on 26 September, and the FOMO is easy to understand. 
Rumors are rife as to which centralized exchanges will be the first to list what could soon be one of the biggest and most useful meme coins ever.
$WSM listing on 'multiple top-tier exchanges'26 September  – Binance, Coinbase, Kraken…?
Yesterday news emerged that Binance might be one of the first CEXs to list $WSM. 
Other rumors point to the strong US footprint of the Wall Street Memes brand, and the likelihood that some of the biggest names in the US crypto exchange space, such as Coinbase and Kraken, could be eyeing the coin for listing has also started to circulate. 
All will be revealed in two days and goes a long way to explaining why the pace of the fundraising is accelerating in such a dramatic fashion. But there is only one day to go to actually buy in presale, and that is also piling on the frenzy around the cryptocurrency.
Market participants remain cognizant of the power of the meme coin phenomenon. 
Dogecoin and Shiba Inu remain top coins, despite the ups and downs of the crypto winter. 
Meanwhile, Pepe showed a continuing appetite for new meme coins among crypto investors when it launched five months ago and gained 26,000%, as seen in the chart below: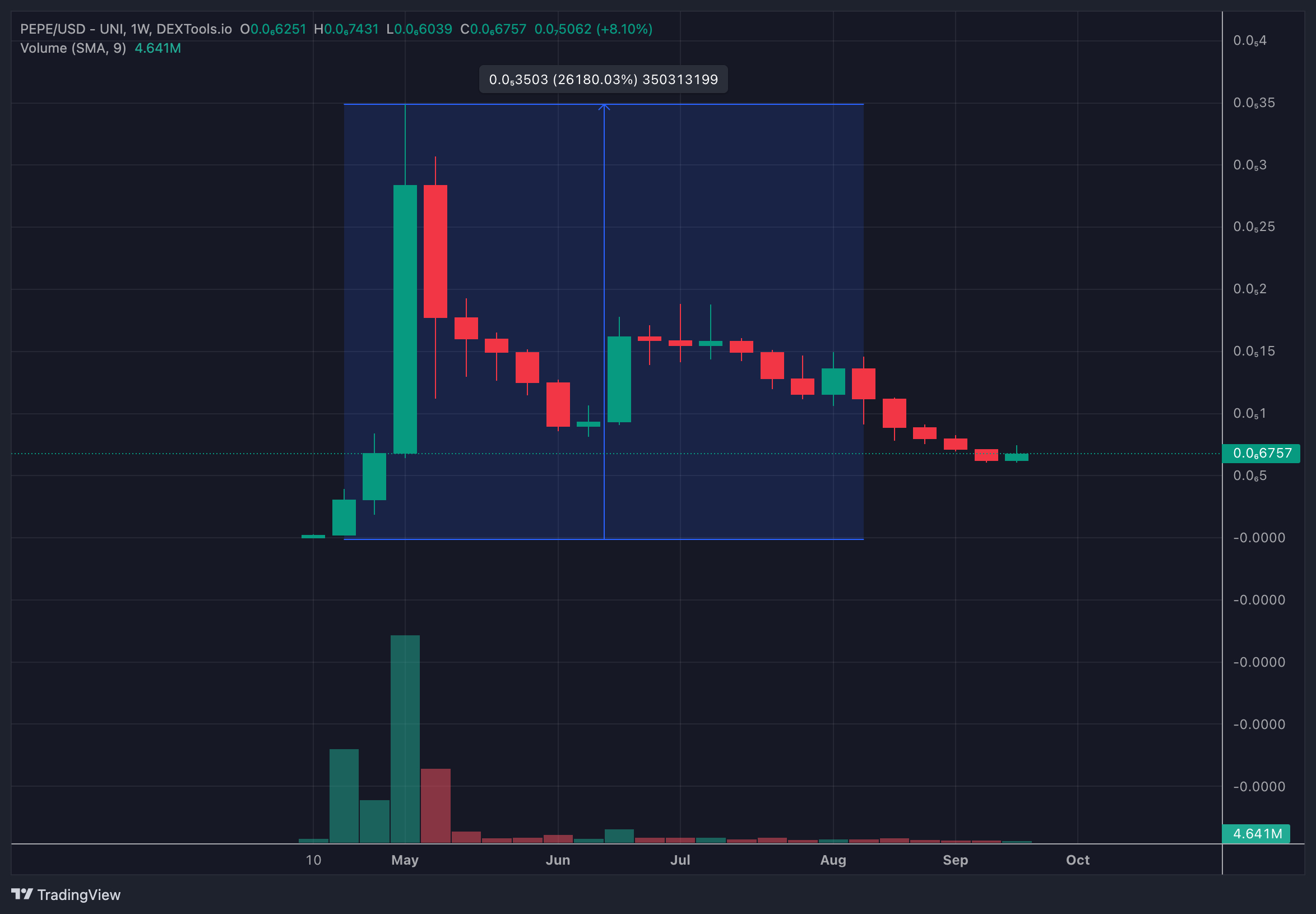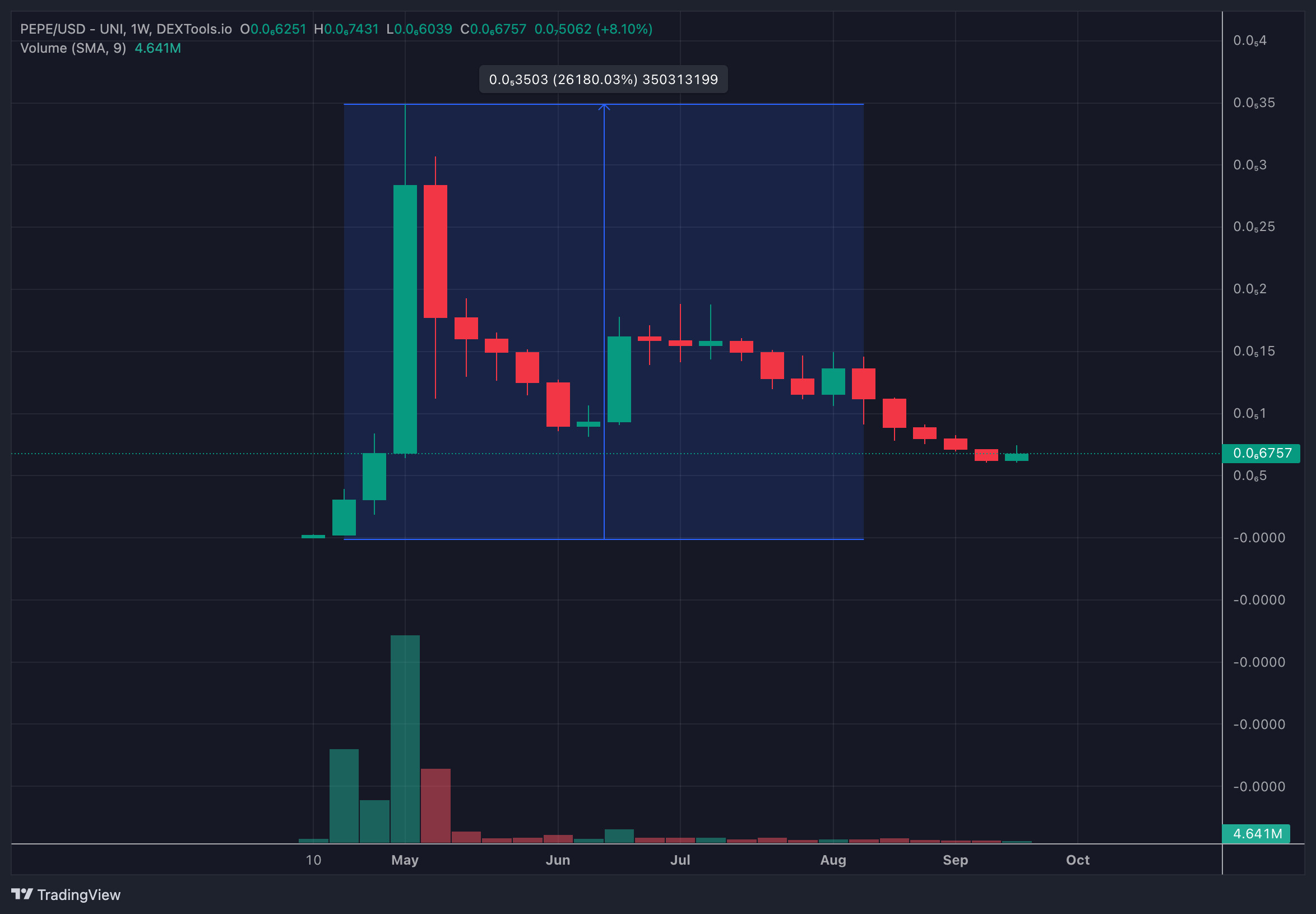 Wall Street Memes 'King of Stonks' may also become the 'King of Meme Coins'
Wall Street Memes token is the outgrowth of an already established and thriving one million-strong online community of traders and savvy investors associated with the meme stocks trend that took off during the pandemic. 
Such is its visibility as the 'King of Stonks', it can boast of numerous interactions with Elon Musk on its X (formerly Twitter) account, as it now vies to become the 'King of Meme Coins'.
For starters, its Wall Street Bets Instagram account has 539,000 followers, and there are another 279,000 on X.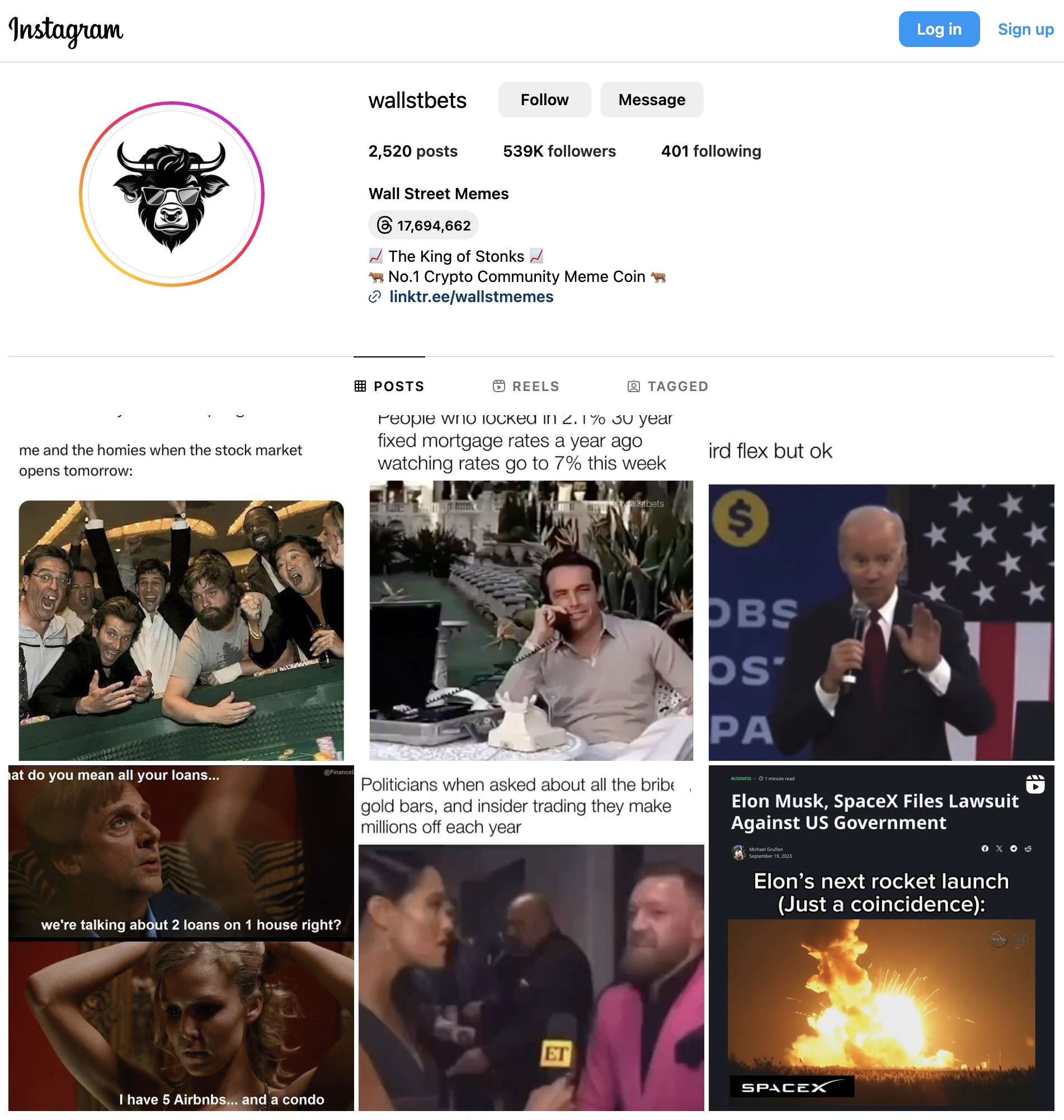 And then there are its 100,000 followers across its two other Instagram channels, wallstgonewild and wallstbullsnft.
Wall Street Memes' X account is prolific and popular. Each of its highly engaging meme tweets regularly racks up tens of thousands, often hundreds of thousands, of views, likes and retweets. 
The guys at Wall Street Memes have been creating crazy popular memes down into an art form, demonstrating they have a winning formula. Imagine what they will do by bringing the same ingenuity to crypto. 
In fact, they've already been doing that. In May this year, the team launched the Wall Street Bulls Ordinals NFT Collection.
Earlier, in 2021, the community founders made $2.5 million when they minted the Wall Street Bulls 10,000-piece NFT collection, which famously sold out in 32 minutes. 
And now, of course, the highly anticipated launch of Wall Street Memes as its enormous presale nears its end, has got tongues wagging. Nothing breeds success like success.
The Elon Musk association could propel $WSM to 100x gains
Then there's the Elon Musk factor. Suffice to say, when the richest man in the world is tweeting to you, it is marketing gold dust, and Wall Street Memes has not been slow in broadcasting its valuable connections.
A single tweet from Musk can create a viral explosion, as Dogecoin token holders know well, leading to 100x gains or more.
Crypto market participants should not make the mistake of dismissing Wall Street Memes as just another utility-lacking lightweight meme coin hoping to go viral. 
When Musk interacts with your X feed, it is marketing nectar. That's the great position $WSM is in. 
You can see two of Musk's posts on @wallstmemes at the link here https://twitter.com/elonmusk/status/1636924379086077954 and embedded below: 
With that sort of verifiable engagement, it is a reasonable question to ask, has Musk been buying $WSM?  
One whale bought $1 million worth of $WSM – was it Elon Musk?
On 1 August, a mystery whale address purchased $WSM in five consecutive transactions amounting to 460 ETH valued at $840,000 at that time.
Another 93 ETH worth of $WSM was bought by the same wallet two weeks earlier. In total, then, $1 million was invested in $WSM by the mystery crypto whale. Was it Elon Musk?
The $WSM crypto whale's token purchases can be verified on Etherscan.


Source / Etherscan
The same address also bought 93 ETH worth of $WSM two weeks ago.


Source / Etherscan
Launch of staking service a hit – more product rollouts coming 
As indicated by the tokenomics allocation of 30% of the total supply to community rewards, it was always strongly signaled that the team had in mind a number of utility and value-enhancing product innovations in mind. The first fruit of that is the staking system introduced a few weeks ago. 
Fifty percent of the total token supply of 2,000,000,000 (2 billion) was available in the presale.
So far, 386 million $WSM tokens have been staked, earning an annual percentage yield (APY) of 52%, as can be seen on the staking dashboard. It means that 38% of the tokens allocated to the presale have now been locked in the staking pool smart contract.
Staking is great news for token holders not just because of the passive income stream it allows them to earn but also because of the strong price floor it creates. This will be particularly important when the token launches on the exchanges, as it will dampen any selling pressure that might arise. 


Crypto analysts are falling over themselves to alert their viewers to the $WSM opportunity
Crypto YouTubers are falling over themselves to tell their subscribers about the Wall Street Memes opportunity.  
Prolific presale analyst Jacob Crypto Bury thinks Wall Street Memes is set to explode at launch and could blast 10x higher at listing.
Austin Hilton, with more than 230k  subscribers, has $WSM as one of the top altcoins to buy right now, reminding his audience that this is the last chance to buy in presale.
Then there's YouTuber Joe Parys, with 380k subscribers. He tells his viewers that Wall Street Memes coin could be a 100x crypto.
Top crypto expert Michael Wrubel, with 310k subscribers, in this most recent video posted two days ago, tells his followers that 'it's time' as the FOMO reaches fever pitch. 
Do your own research, but there are other analysts who concur with the thoughts expressed here, who think that $WSM could be the next Pepe.
Regardless of whichever top-tier exchanges are listing Wall Street memes on 26 September, there are only 24 hours to go to buy at presale to take advantage of one of the hottest coins of the year.
You can purchase $WSM with ETH, BNB, or USDT (ERC-20 or BEP-20). To start staking straightaway, you must make sure to buy with ETH.
Visit Wall Street Memes today