XRP Price Prediction as Bears Push XRP Below $0.50 Support – Time to Buy the Dip?
The XRP price has declined by 0.5% in the past 24 hours, with its drop to $0.497880 coming as the wider cryptocurrency market continues to weather largely negative sentiment.
XRP is now down by 5% in a week and by 19% in the last 30 days, with the altcoin still up by 46% since the beginning of the year.
This increase had been driven by the largely positive ruling Ripple saw in its case with the SEC, but with macroeconomic concerns and Bitcoin ETF delays depressing the mood since the middle of July, XRP and most other major cryptocurrencies have taken something of a battering since.
But with XRP now falling below its $0.50 support level, its oversold condition may put it in a prime position for a rebound.
XRP Price Prediction as Bears Push XRP Below $0.50 Support – Time to Buy the Dip?
XRP has now lost pretty much all of its post-ruling gains, although the token's indicator now suggest that it's so oversold it more or less has to recover in the not-too distant future.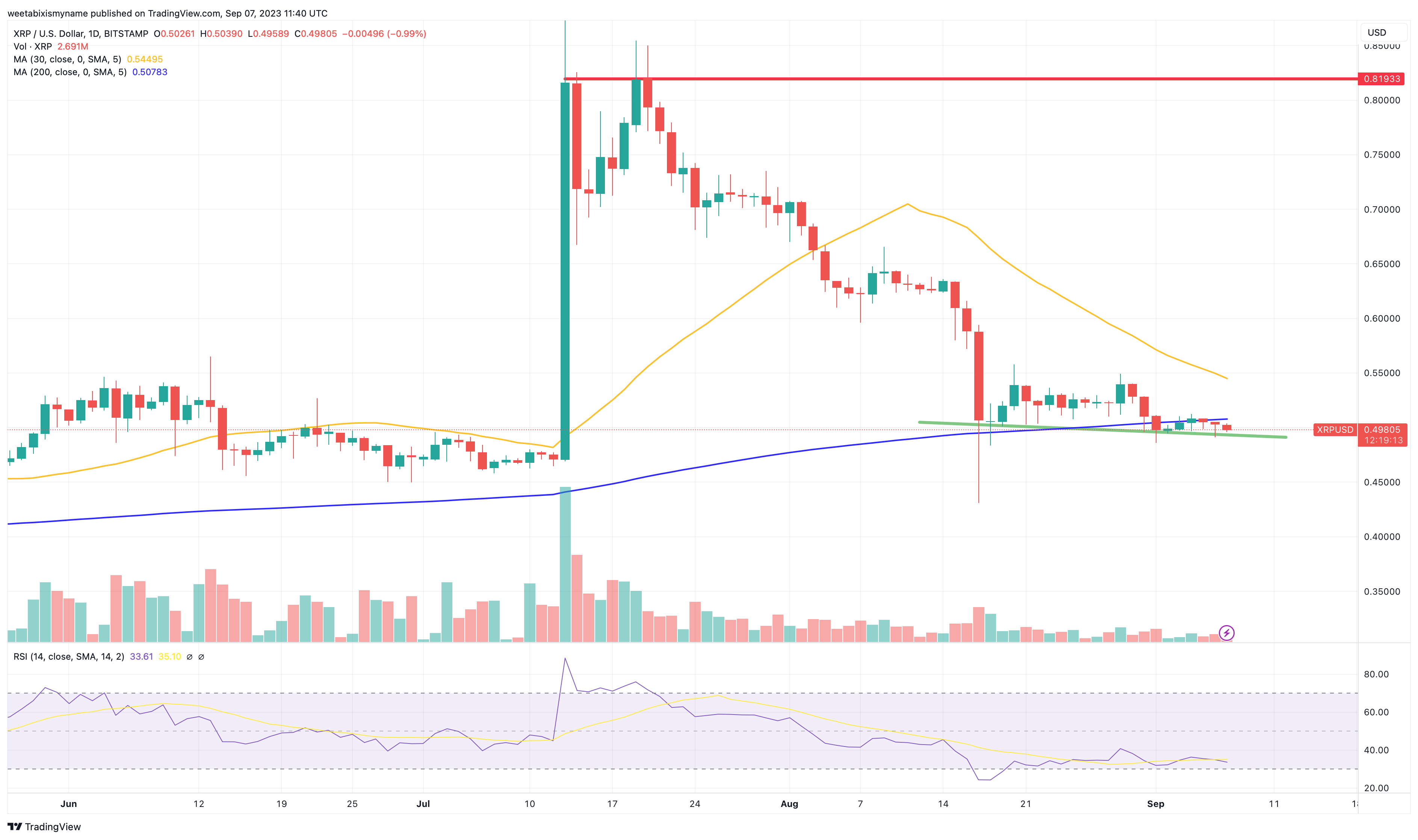 Its relative strength index (purple) dipped below 30 in the middle of August and has remained close to this level ever since, meaning that it continues to be undervalued by the market and overdue a rally.
Having said that, XRP's 30-day moving average (yellow) hasn't yet fallen below its 200-day average (blue), so the coin may fall a little further before beginning to recover.
This view is supported by the token's support level (green), which has declined over the past few weeks and may therefore see a few more dips en route to recovery.
Despite XRP's negative situation right now, its fundamental picture remains as positive as ever.
Yes, the SEC did apply to file an interlocutory appeal last month, yet this application hasn't been granted, with Ripple filing an opposition which argues that the regulator hasn't met the requirements for such an appeal.
As such, XRP's regulatory and legal status remains the same as it was in the middle of July, with US-serving exchanges continuing to list the token.
At the same time, Ripple's business continues to expand steadily, with the company developing several partnerships over the past couple of months, including one with the Republic of Palau (related to a stablecoin pilot) and one with the Rocky Mountains Institute (related to carbon credits).
For this reason, XRP can be expected to recover soon enough, with the coin likely to return to $0.50 and then $0.55 in the next few weeks.
And by the end of the year, more positive conditions could propel XRP up to $0.70 again.
Presale Tokens Promise Quicker Gains
For traders who don't want to wait for XRP to make its gradual recovery, newer altcoins – including presale tokens – may be a viable solution, given that the best of these can witness above-average gains at relatively short notice.
A prime candidate for such gains is Wall Street Memes (WSM), a new ERC-20 meme token that has raised over $25 million in the past couple of months.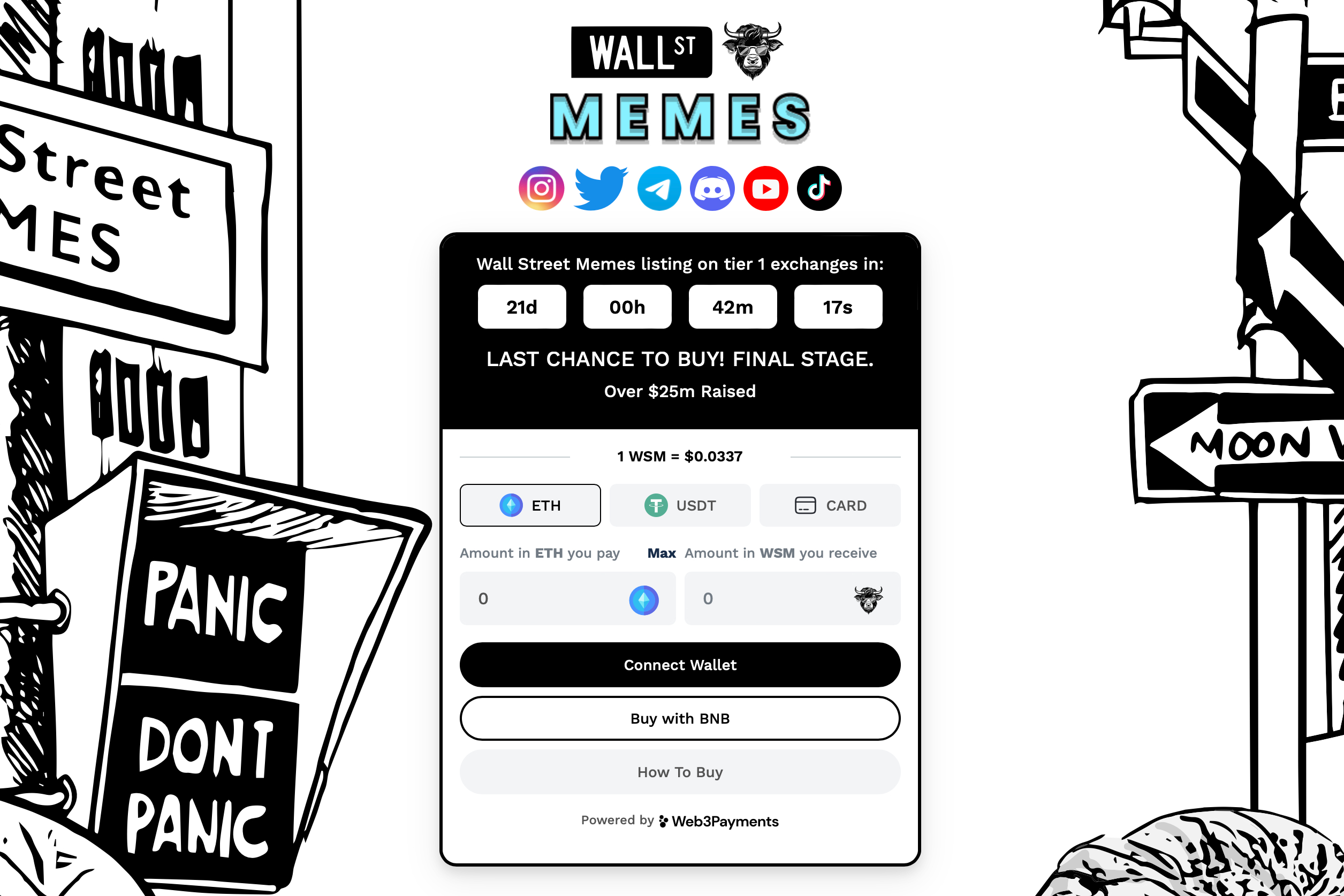 Emerging out of the meme stocks movement (which is set to be immortalized in the forthcoming Dumb Money movie), Wall Street Memes has benefitted massively from the fact that it already has a strong community around it.
Its Twitter account now boasts over 268,000 followers, many of whom have likely already invested in the token and are set to support its price once it lists on exchanges.
WSM will have a max supply of two billion, with 50% allocated to its presale and 30% to community rewards, something which will make it a highly decentralized meme token.
Such decentralization helps explain why its sale has already proven so successful, with new investors able to join the sale by visiting the official Wall Street Memes website.
1 WSM is selling at $0.0337, but with only 20 days until the token lists, such a price could end up seeming very cheap real soon.
Visit Wall Street Memes Now
Disclaimer: Crypto is a high-risk asset class. This article is provided for informational purposes and does not constitute investment advice. You could lose all of your capital.