Bitcoin Cash price outlook: Symmetrical triangle forms
Bitcoin Cash has formed a symmetrical triangle pattern.
The two lines are nearing their confluence levels.
The Federal Reserve is the biggest risk in the market.
Bitcoin Cash price has held quite well in the past few weeks even as a sense of fear spreads in the market. The BCH coin was trading at $214.50 on Tuesday, higher than this month's low of $180.
Crypto risks remain
Bitcoin Cash price has done relatively well in the past few weeks. This performance was notable since it happened at a time when global stocks were in a freefall. The Nasdaq 100 index has dropped by more than 7% from its highest level this year.
Bonds have also been in a steep sell-off, which has pushed their yields to the highest level in years. The 2-year yield has jumped to 5% while the 10-year and 30-year have jumped to their highest level in more than a decade.
Bitcoin Cash price has likely done well because of the performance of Bitcoin. The BTC coin has remained above $26,000 even as the fear and greed index dropped to the fear zone of 34.
A likely reason for this price action is that investors are optimistic that the Securities and Exchange Commission (SEC) will approve the Bitcoin ETF by key companies like Blackrock, Invesco, and Fidelity.
If this happens, it means that the SEC will need to approve other ETFs. I believe that some of the coins that will have ETF applications are Ethereum, Litecoin, and Bitcoin Cash.
Still, there are risks in the crypto industry. The biggest risk is that the Federal Reserve has committed to be more hawkish since inflation remains stubbornly high. The most recent data showed that inflation jumped to 3.7% in August.
Bitcoin Cash price forecast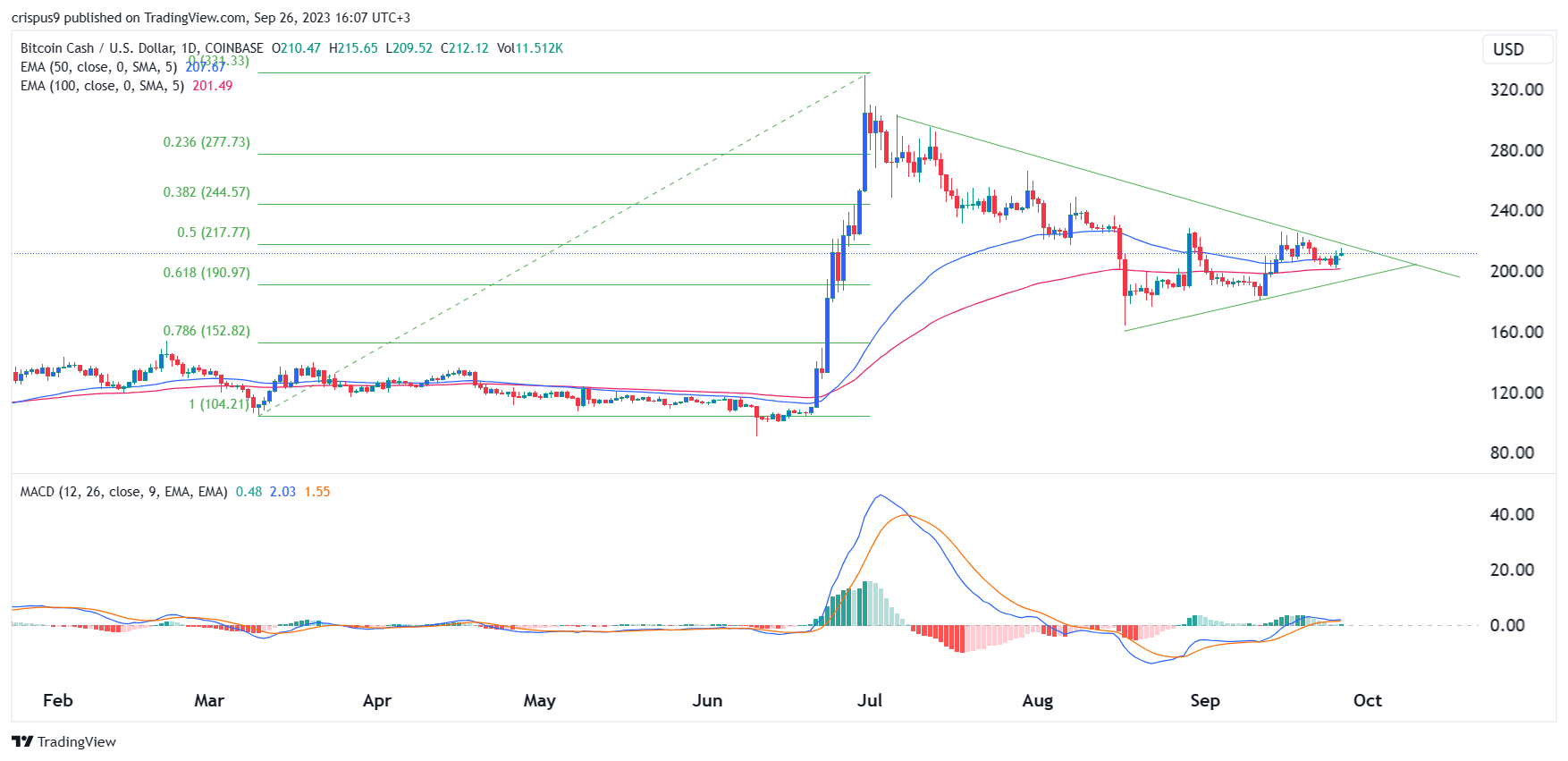 The daily chart provides a good picture of the Bitcoin Cash price action. It has formed a symmetrical triangle pattern shown in green. This triangle is nearing its confluence level, meaning that a breakout or breakdown is about to happen. Bitcoin Cash has moved above the 25-day and 50-day moving averages. 
It is also oscillating at the 50% Fibonacci Retracement level while the MACD has moved above the neutral point. Therefore, the BCH coin will likely remain in this range and then have a bullish breakout soon. If this happens, the key level to watch will be at $240. The support of the coin will be at $180.
How to buy Bitcoin Cash
AVATrade
Ava Financial Ltd operates the AvaFX and AvaTrade forex brands and all business associated with them. The company has a branch office in Dublin, Ireland, which enabled it to get an operational license from the Irish authorities.
Coinbase
Coinbase is one of the first places that made it easy to buy bitcoin and has since become a widely trusted exchange in the market.