Ethereum Price Prediction as OnlyFans Parent Company Confirms ETH Holdings – Crypto Adoption on the Rise?
The Ethereum price has dropped by 1% in the past 24 hours, falling to $1,633 as the cryptocurrency market as a whole slips by 0.5% in the same amount of time.
ETH is now down by 2% in a week and by 12% in the last 30 days, with the coin remaining up by 36% since the beginning of the year.
Yet Ethereum could receive a boost in the next day or so, after it emerged yesterday that the parent company of adult content site OnlyFans has invested a chunk of its working capital in the altcoin.
And when combined with ETH's strong fundamentals, this news could help the coin recover from recent losses very soon.
Ethereum Price Prediction as OnlyFans Parent Company Confirms ETH Holdings – Crypto Adoption on the Rise?
With ETH falling 1% since Sunday night, its chart and indicators continue to look weakened, so weakened that it would be expected to rebound soon under normal circumstances.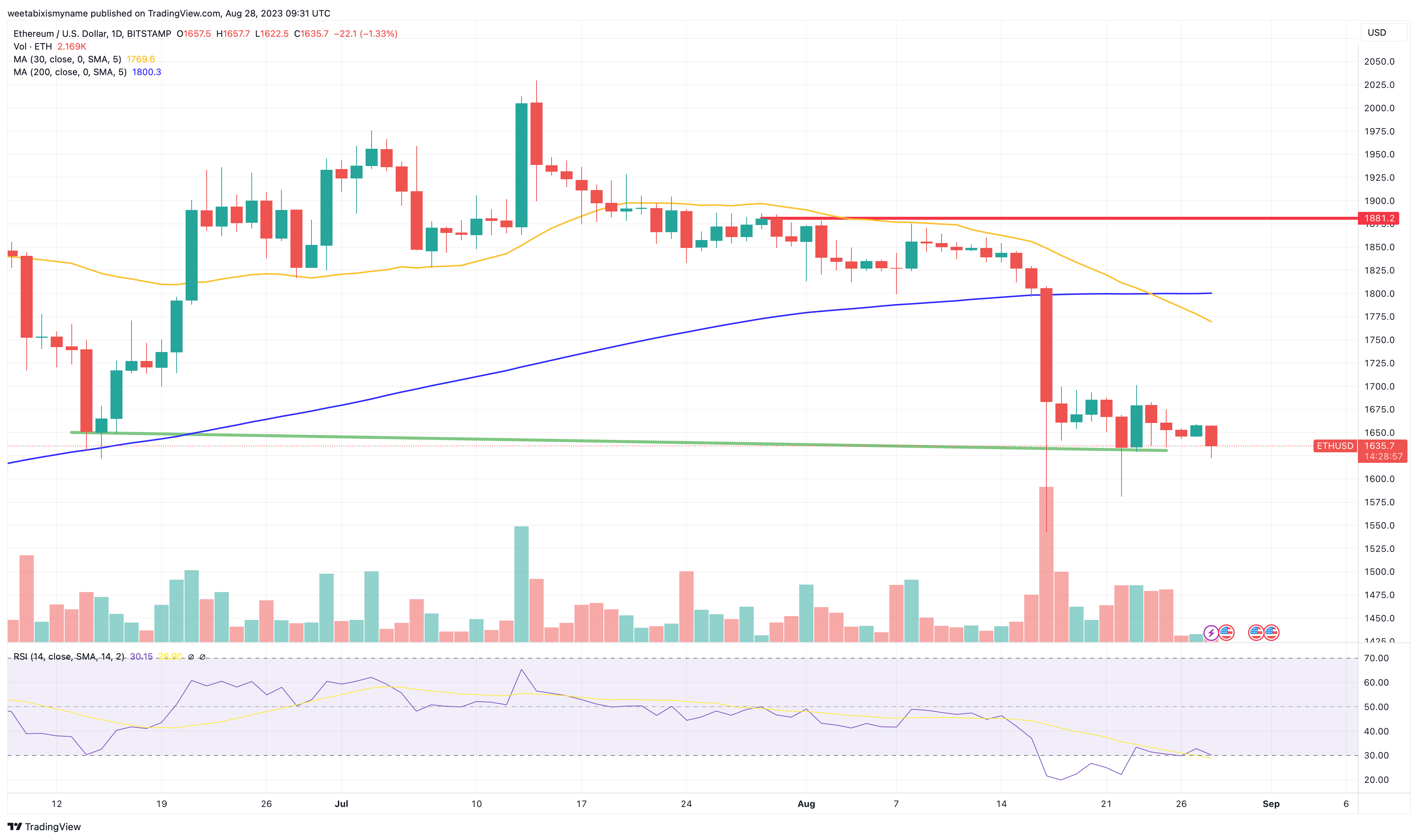 For one, its relative strength index (purple) remains at 30, signalling continued overselling that has arguably undervalued ETH massively compared to its 'fair' price.
Secondly, the altcoin's 30-day moving average (yellow) has dropped significantly below its 200-day average (blue), a move which often indicates that a coin has been sold too heavily and is now at a considerable discount relative to recent levels.
As such, it can be expected that ETH should begin regaining momentum soon, although it remains to be seen whether its support level (green) will prevent further drops to new, lower floors.
Indeed, some analysts and experts have predicted in the past week that ETH could actually drop as low as $1,400 before seeing renewed growth.
Despite such pessimism, Ethereum's status as the market's biggest altcoin remains in tact, with its position boosted in the past day by the revelation that OnlyFans' parent company – Fenix International – has significant ETH holdings.
According to a company filing, the firm purchased $20 million in ETH at some point between 2021 and 2022.
While the value of this ETH declined to $11.4 million as of November 2022, it's significant to note that Fenix hasn't sold its holdings (at least according to public data and info), something which can be taken as a vote of confidence in the cryptocurrency.
As such, this news can be taken as another signal that Ethereum is the altcoin of choice for larger investors and adopters, with recent weeks bringing other positive adoption news for the network and its native token.
For example, PayPal revealed earlier this month that it would be launching its own Ethereum-based stablecoin, while the past few days have seen reports that a number of big ETH-based futures are to be approved by the SEC.
It's therefore likely that ETH could be about to recover big very soon, with its price potentially returning to $1,700 and then $1,800 in the next few weeks.
New Alts Bring New Rallies
As fundamentally sound as ETH remains, its return to high levels may be a gradual process, meaning that traders who want quick above-average gains may have to look elsewhere.
There's no shortage of promising new altcoins, however, with some of these – including presale tokens – potentially on course to enjoy big rallies in the near future.
One of the most successful presales of the year is Wall Street Memes (WSM), a new ERC-20 meme token that has raised more than $26 million since its sale opened in June.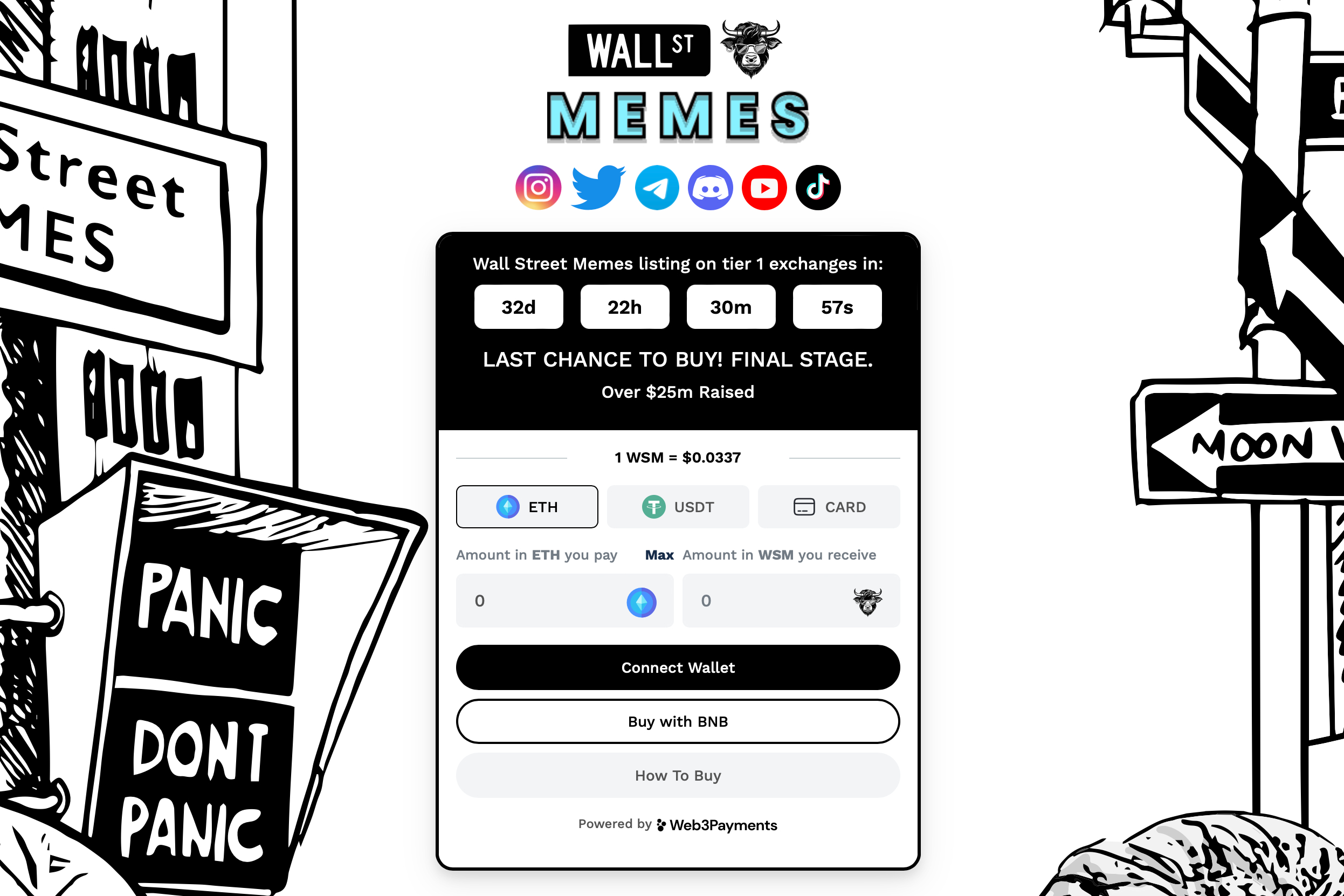 Wall Street Memes has raised so much money so quickly because of its links to the meme stocks movement that was responsible for the 2021 GameStop rally, with the new token's Twitter account having more than 260,000 followers.
In other words, in contrast to most other new meme tokens, WSM already has a substantial online community around it, something which will boost and support its price once it lists on exchanges in roughly 30 days.
And it's likely that this community could growth further before the sale ends, with WSM being a highly decentralized coin in comparison to many other meme tokens.
It has a total maximum supply of two billion tokens, with 50% of this total being reserved for the presale and 30% allocated to community rewards.
This high distribution will incentivize greater involvement from its community, as can already be seen in the fact that its presale total (so far) has far exceeded that of pretty much every other sale this year.
And new investors still have the chance to get involved, needing only to visit the official Wall Street Memes website to buy WSM.
1 WSM costs $0.0337, although this is likely to rise substantially once it becomes tradeable.
Visit Wall Street Memes Now
Disclaimer: Crypto is a high-risk asset class. This article is provided for informational purposes and does not constitute investment advice. You could lose all of your capital.