Sui Price Prediction as SUI Becomes Best Performer in the Market – What's Going On?
The Sui price has jumped by 6.5% in the past 24 hours, with its rise to $0.580678 easily outperforming the wider cryptocurrency market, which has barely moved today.
SUI is now up by 5% in a week, although the utility token is actually down by 12% in the past month, and by 73% since reaching an all-time high of $2.16 in early May.
This was when Sui, which is an offshoot of Facebook's ill-fated Libra/Diem project, initially launched, and while the new layer-one network has lost momentum since then, it's likely to recover soon enough.
Sui Price Prediction as SUI Becomes Best Performer in the Market – What's Going On?
SUI's chart reveals that the token is picking up momentum once again and may have begun something like a breakout rally.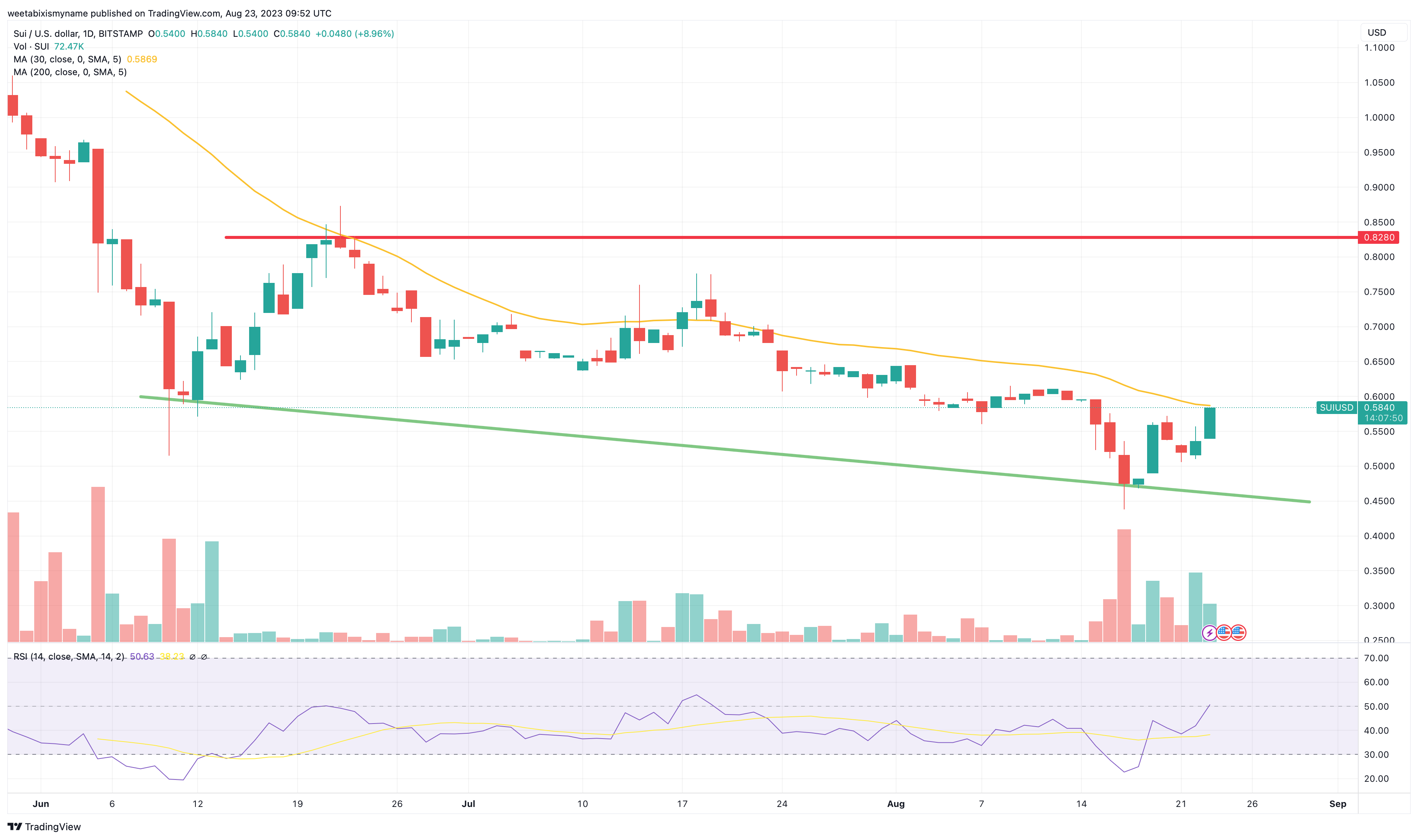 Its relative strength index (purple) has jumped up to 50 after spending the weekend close to 20, a clear sign that buying pressure is returning to the altcoin.
Likewise, SUI's price is about to overtake its 30-day moving average (yellow), another strong indication that the token has potentially begun a new sustained rally.
And while its support level (green) had been declining steadily over the past couple of months, it's likely that the coin's descent up until now has ended.
There's no particular reason for Sui's rally today, over than the fact that the coin had been oversold and undervalued for quite some time, with its discounted price making it attractive enough for investors to start buying it again.
It also helps that the layer-one blockchain, which harnesses the efficient Move programming language, has been enjoying some steady organic growth in recent weeks, with the network recently passing the milestone of 600,000 daily active accounts.
This provides a signal that Sui is likely to continue growing consistently for the forseeable future, meaning that SUI – which is used for network fees and staking – will grow in price in tandem.
Since launching in early May, Sui has also signed a number of high-profile partnerships, with its deal with Red Bull Racing in June being the most significant.
Given its connections with Meta, Sui is likely to continue attracting similar deals in the coming months and years, potentially making it one of the fastest-growing networks in the space.
As such, SUI could be expected to reach $0.75 in the next couple of months, before returning to $1 by the end of 2023.
New Altcoins Can Strengthen Portfolios
SUI remains a promising altcoin, yet most traders would be unwise to put all of their holdings in a single alt, and should instead consider adding more diversification into newer tokens.
This advice holds all the more strongly for presale coins, which can rally significantly once they list on exchanges.
And one of the most exciting presale coins at the moment is Launchpad.xyz (LPX), an all-in-one Web3 platform that has raised more than $1.3 million in less than two months.
Scheduled to go live towards the end of the year, Launchpad.xyz aims to provide pretty much every feature most traders could ever need if they're looking to delve more deeply into the growing Web3 sub-sector.
Not only will it offer Web3 wallet addresses, a play-to-earn hub, a presale launchpad, a trading terminal and market signals, but it will also feature collaborative trading rooms, automated trading bots and fractionalized assets. 
This promises to make it the definitive answer for any trader looking to gain an edge in emerging cryptocurrency markets, as do its plans to launch its own DEX and NFT marketplace.
As for LPX itself, it will be used to pay for platform fees and subscriptions, while it will also be open to staking.
This gives it plenty of utility, something which should translate into a steadily rising price over time.
Investors can learn more and join the presale by visiting the official Launchpad.xyz website, with 1 LPX costing $0.0445.
Visit Launchpad xyz Now
Disclaimer: Crypto is a high-risk asset class. This article is provided for informational purposes and does not constitute investment advice. You could lose all of your capital.